I think one of the strongest memories of our first safari experience was landing on a sandy airstrip convinced we were going to kill an Impala. Our two-hour flight into the Masai Mara had taken us over an amazing landscape, with views of the top of Kilimanjaro. I was literally glued to the window, desperate to spot my first ever elephant – from the sky. The excitement was making my heart thump right out of my chest.
Even today, 16 years on, I still get butterflies whenever we fly over Africa, with views of the game reserves and national parks below.
As we touched down, wheels skidding in the dust, I braced myself for the thud. Instead, the antelope scattered. My first lesson. This is their world. And they are way more adjusted to this than we are.
Hello? Is there anybody there?
We had been collected from our hotel earlier that same morning. We were driven to a deserted airstrip and dropped off, it was still very early – too early for us that's for sure. I can't recall the time but I don't think it was even 4am. And it was pitch black. No lights anywhere – we couldn't even see a building. And the only sounds were those of the wildlife. Our senses were heightened.
Here we were, in a foreign country not without its own troubles, in the middle of God knows where. No phone signal. Just us, sat rigid on two seats we found, staring into the darkness. Listening to the 'laughter' of the baboons and praying we weren't about to become breakfast for a leopard. We were quietly preparing our survival strategy…
Look! This was alien to us. okay? Home birds by nature, staycations made up most of our 20-year holiday history. Yet somehow, we were now in our very own living nightmare.
And then the dark slowly began to change. Black turned to grey, and with it, the outline of three small planes began to appear.
As dawn followed, we began to hear the sounds of whispered activity. Hushed voices somewhere. Out there. People! You can't begin to imagine the relief. I resisted the urge to shout out.
'Hey! We're over here!'
More and more shapes began to emerge. Staff quietly slipping in and out of the shadows. The crew appeared, almost ghost-like, on pre-flight checks.
And then we discovered passengers, just like us, who had been also sat in the dark. Did I imagine it or did everyone's shoulders visibly start to relax? A breath of wind or a combined exhalation of relief?
It's funny now, hilarious in fact, but it wasn't then. Besides, this first safari experience had already had it's moments.
No visa, no entry
We had booked the trip through a package holiday Africa safari company who also offered adjustments to enable us to tailor the schedule. Not brave enough (yet) to hang our hats entirely on staying in the bush for a fortnight we chose a beachside resort, with two fly-in safaris. The Masai Mara and Tsavo East.
It was maybe a year in the planning, a trip to celebrate a milestone birthday, and we were excited. We bought mosquito nets, repellant by the bucket load and a whole lot of khaki! Meryl Streep and Robert Redford eat your hearts out. We were 'Africa ready'.
Except it turns out we weren't. A fact that would reveal itself the moment we landed in Mombasa.
It was late at night as we disembarked into a quiet airport. We joined the queue for passport control, with our shillings in our hands for our visas.
'Next'
We handed over our passports. He asked for our visa fee. I think it was maybe 40 dollars each. The amount is irrelevant. The currency, it seems though, definitely wasn't. We handed him our Kenyan shillings. He pushed them back and asked again. Dollars? But we had no dollars. We're English. Sterling? No, we couldn't even offer enough of that – because we weren't expecting to need any, except small change for the airport.
This exchange continued for some time and then he asked us to step aside, beckoned an official, and continued with the next passengers.
We were frog-marched into a side room. Oh, the walk of shame. We began to sweat. Was it the Mombasa humidity, or imagining the snap of the rubber gloves? We offered to get money exchanged – except there was nowhere open. We couldn't even pay by card. There were raised voices and gesticulating between various people, in a language we didn't understand, and we were scared. Really scared. This was it. We were going home, weren't we?
Then, as if by magic, a baggage handler appeared and simply handed over the fee. Phew. Thank you. Bowing, grateful. He was obviously offering to be our exchange bureau. Except he wasn't.
Declining our shillings we were sent on our way, passports stamped, with an instruction to pay him back when we could get to a bank and draw some dollars. Sounds simple in principle, but in reality not so much. This would hang over us for the entire holiday. We were already imagining the headlines.
'UK couple held in custody over 80 dollar visa error'.
We exited the arrivals hall to find our bags being strapped to the top of a rickety bus and then spent the next couple of hours driving to Watamu. Nothing had really prepared us for the journey. We soon realised roadblocks, rifles and vehicle checks were quite commonplace. But every stop did have us a bit sweaty with trepidation.
We clearly watch way too many thrillers and drama series. 😀
Choose your weapon – or camera
So back to safari and we have landed. We step off the plane. Even before breakfast we can feel this is going to be a hot day.
But before heading into the bush for our first real wildlife encounter, you're gonna need a camera, right? So let's quickly talk equipment.
Stephen has been a keen photographer for most of his adult life. For the techno types reading this, he owned a Mamiya C220 twin lens reflex camera. He also had a Canon AE-1 PROGRAM 35mm SLR film camera. But with the prospect of shooting off hundreds of photos, the time had come to think about digital. He plumped for the Canon EOS 300D with a 70-300mm zoom plus an 18-55mm lens.
On the other hand, although quite keen on photography myself, I had only really grown up with an Instamatic 126 cartridge camera. Remember those? With a clip-on flash bulb and a manual wind on. So my 'upgrade' was a Nikon Coolpix 4300 (4 MP). Positioned in the market as a point and shoot camera the Coolpix suited my level of expertise (none) even though it did have a manual function.
Between us, and our choices, we figured we would have wildlife and scenes covered.
And you'll be glad to know that's the end of the techy stuff folks.
Going digital was a big thing for a purest. But one of our fellow travellers, Ines, was writing a children's storybook about lions and was collecting pictures to use. She was a traditional film photographer and literally went through rolls and rolls of film. Box after box. That was when we truly appreciated having switched to digital. I mean, can you imagine the development costs?
First safari experience? Okay let's go find a big cat
It's no secret that lions have always been my favourites. As a child in the 70s, I remember being glued to Born Free, the American TV series adaptation based on the film about the Adamsons and their adopted lioness Elsa. I cried many a tear in front of our black and white television. I dreamed I would one day see a lion in the wild – not just in a zoo.
That time was now.
Stephen and I were recalling our favourite memories of our first safari experience in Kenya before writing this chapter. We both agreed, seeing our first lion was up there with the best. We had literally just left camp when our guide, Kowasaki, swung his Toyota 4WD into the bushes and cut his engine. And there, right in front of us, shading from the morning sun was a lioness and her cub.
Surrounded by the click-click-click of cameras, I just sat and cried. My first safari experience. If I never saw another lion for the rest of the three days we were here, I would still go home happy. I am easily pleased.
There were five of us in the vehicle. An open roof meant we could stand up as well as get photos through the window. Me and my wee camera were no competition though, so I was thrilled when Kowasaki suggested I go join him in the front.
Not so much to get a better photo, because I was already realising my little Coolpix was not the right tool for the job. But a front seat gives you a chance to ask more and to learn. And to really feel part of the action. Or at least make believe you are their spotter for a day.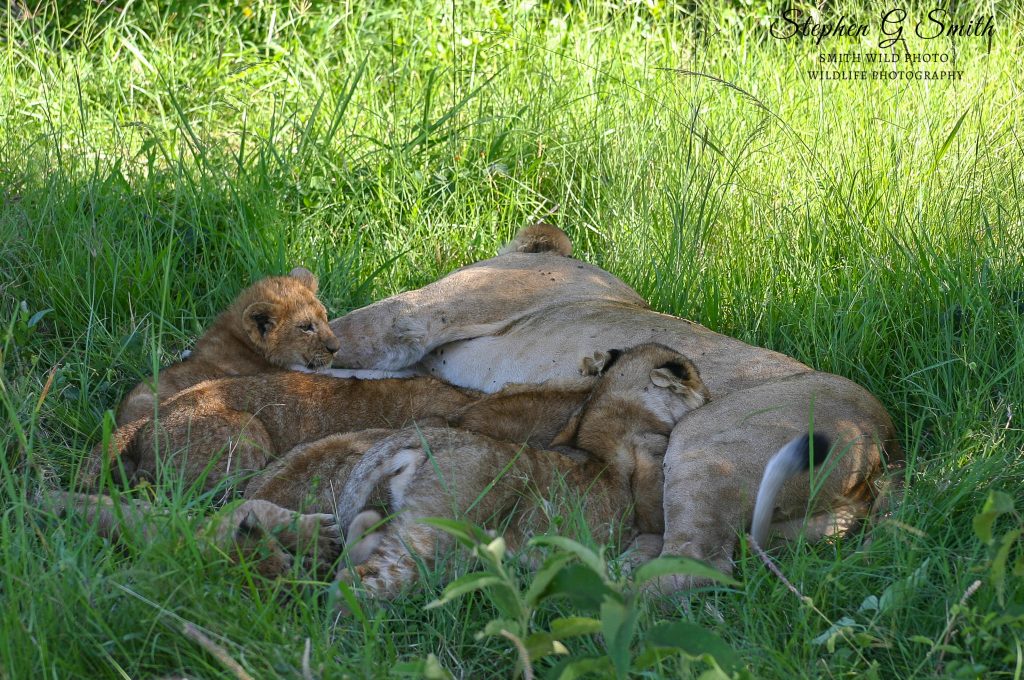 Of course, we did see more lions. Plenty. Although one large pride attracted a lot of vehicles. As did a lone cheetah we happened upon, but who soon found herself surrounded by a circle of four by fours of just about every description. Lodges, camps, self-drives.
They say if you want to know where the action is, scan the horizon for a herd of safari vehicles. Like wasps to a jam pot, they hover and buzz.
That aspect is not a particularly pleasant one. When you have sat among twenty-odd vehicles, jostling to give their occupants the best view, revving their engines, excited holidaymakers noisily showing no respect, it feels very uncomfortable.
But it sure has shaped the way we now choose our destinations – and our tour operators too.
Knowing how the wildlife viewing is managed, and the level of care and respect shown by the guides is a key factor. We will talk more about that in future chapters. Remember – this was our first safari experience. We had no real idea about what to look for in a tour company.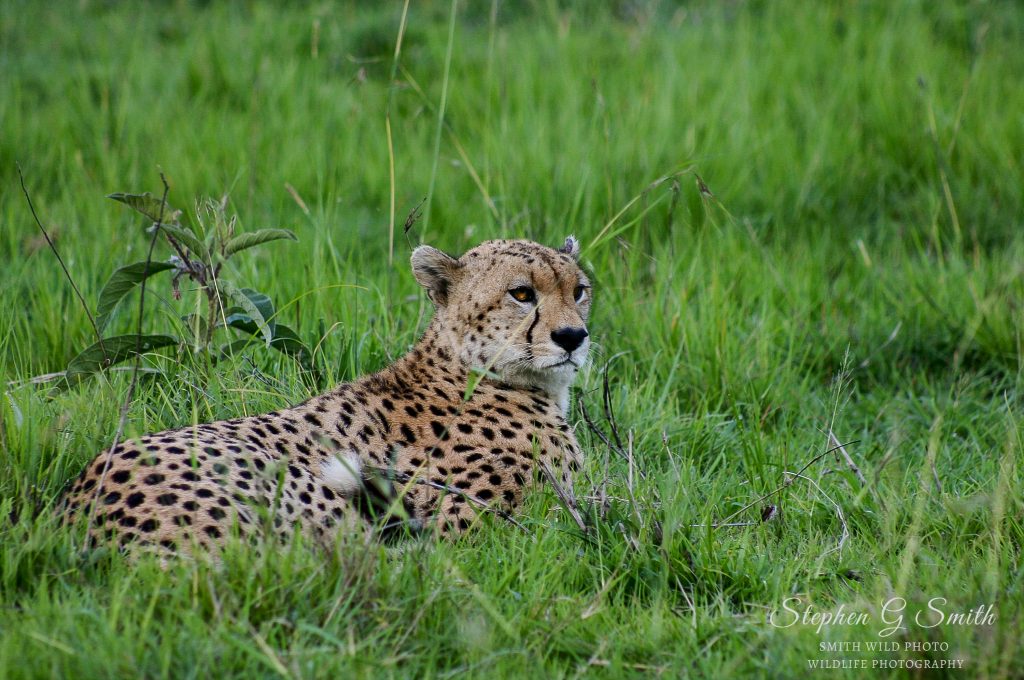 Take time to learn
For us, safari is not all about the wildlife. Spending time with people, in their surroundings, is one of my safari highlights. Every time. They are just full of stories and anecdotes.
And these short hop type safaris often offer ample opportunity to meet the locals. Across both our trips we had time to spend in a couple of villages and stopped for shopping. I remember the first of our Masai village 'excursions'.
While most of the other vehicle occupants did a cursory walk around, eager to get back out, we found ourselves inside the home of one of the village boys. There we learnt about family life. How the man of the house has his own room so he can sleep, while Mum and the kids all sleep in another. And a stick outside the door means the spouse shouldn't enter as their other half is 'entertaining' someone else. If you get my drift. Or the jackal which presents the same challenges to the animals they rely on for food, in much the same way as a fox might do here.
It's fascinating, and beautiful to see someone's face light up when you genuinely show an interest in their life and their world. Even if your fellow travellers do eventually come looking for you, in case you have decided to stay for dinner!
Not quite so fascinating if you think you are about to become a crocodile's dinner. Picture this. You stop at a shop, trawl the many African carvings, then step outside to discover lots of excitement by the river. They are feeding the crocs. That was Stephen, off to snap a reptile so to speak. They encouraged him closer and closer and then suddenly…the croc is flying up the bank towards him. I have never seen him move so fast. The locals? They fell about laughing – then tried to buy his hat!
The moral? If you are going to snap a crocodile, wear trainers with a good grip 😀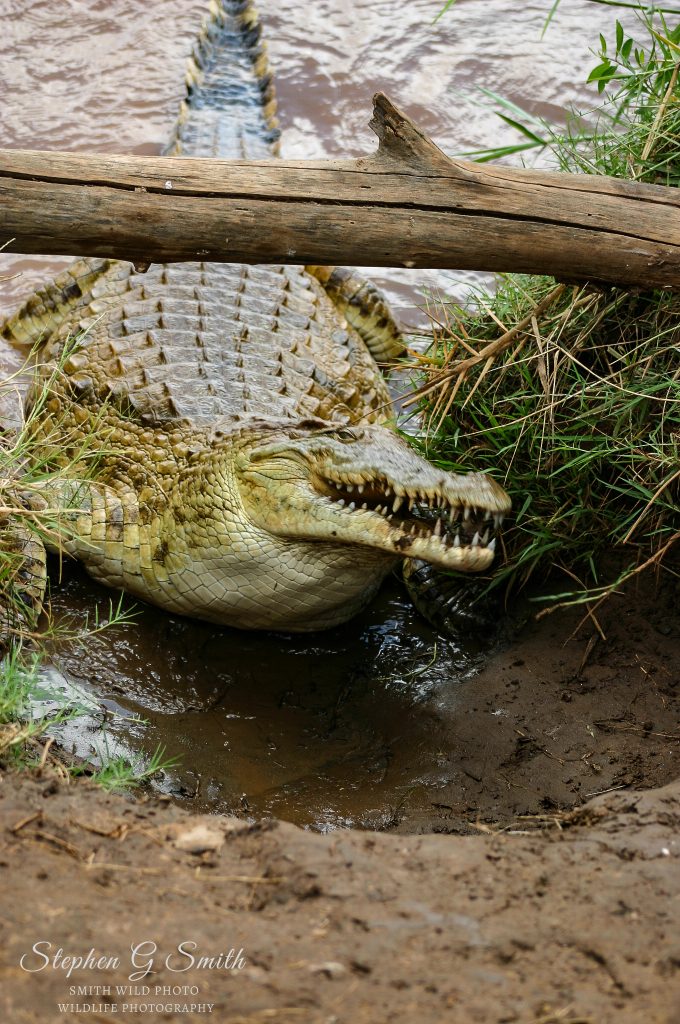 First time safari – but not all safaris are the same
When we began to put our wish list together, the Masai Mara was a 'must-do'. I don't really know what I expected it to look like. Maybe I imagined wide open plains. Not many trees. Scorched, parched landscapes. Yet Mara, in February, is not like that at all. I actually likened it to a British landscape – only, a welcome, several degrees hotter by day.
We flew out of there two and half days later having had the best time. As a first safari experience goes it would be hard to better it. Our vehicle of five became great company. We ate together, drank together, laughed together. And when we stepped off a rather turbulent two-hour flight back, feeling a tad nauseous, we cried together too. It had come to an end all too quickly.
A week later we were heading off again. Same early morning drop off and routine, though we were 'experts' now. No scaredy cats here. This time our destination was Tsavo East. Chosen as a direct contrast to the Masai Mara, with arid deep red soils, we couldn't have asked for a more different first safari experience.
And aside from the landscape, the animals are quite different too. Those who dust – elephants, warthog – all take on the deep terracotta hues of the soil.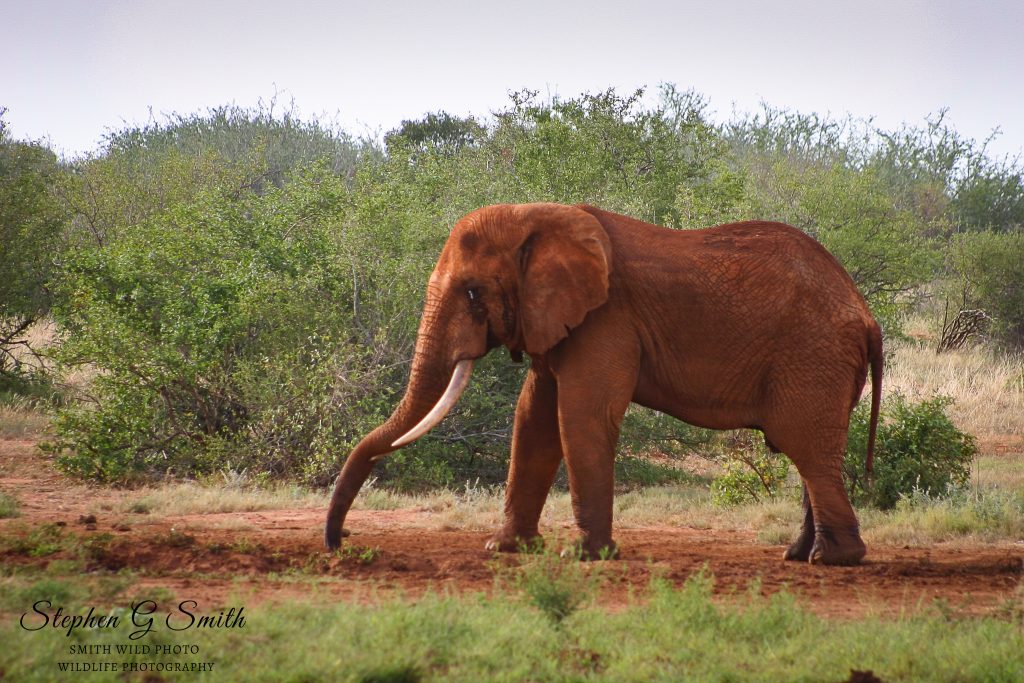 The lions too looked very different. Less vegetation impacts on the plains game, which in turn impacts on the predators. We certainly noted the lions to be leaner than in the Mara.
And it is subtleties like that which really do make every area a little bit different. Each with its own unique characteristics.
Rookie photographer errors
We sit here now, much more confident in understanding how our cameras work. Switching to manual was a revelation, even for Stephen, a keen enthusiast. Me? I was too scared to even use a digital SLR. At least I was until the morning poor Mr Smith woke with a case of Kenya belly!
We were due out before dawn. It was cold – I wouldn't be exaggerating if I said it was possibly only 4 or 5 degrees. Our last morning in the Mara. A chance to catch sunrise before the final group breakfast. Decision made, Stephen needed to stay close to a bathroom – you get the picture. I knew I would be gutted if I chose to stay behind too and missed the sighting of a lifetime. Because that's what happens.
But despite being ready to head out, with my six layers on, I was still anxious. What if we saw some early predator activity? Dawn is a good time for antelope hunting – if you are a big cat. My wee Coolpix camera didn't stand a chance.
Fast forward and I am in the vehicle with the prized possession. I am in charge of a Canon and I am going to use it. The first beast waking is a super bull elephant. Heart beating I follow the very simple instructions. Switch on, lens cap off. Focus. It was practically in point and shoot mode. What could go wrong?
I looked through the view finder and all I could see was his leg! I checked the zoom, I can't get any more in.
Have you worked it out yet?
Yes indeed – it seems a 70-300mm is way too much lens for a really close, close up. And bless him, our guide was trying to get us real close. But where was the wide-angle?
It's back in bed with my fella. It's not his fault. I refused to take it. Too many things to think about. It would freak me out. Ines offered me hers – but it wasn't compatible. I was gutted. We backed off but it was too late. The bull wandered away into the bush.
These days we would know, of course, that faced with that issue you just have to think differently. It's actually not that uncommon to find yourself closer than you expected. So take advantage of the situation. Go for detail. A close up of an eye, an eyelash, skin and wrinkles, texture, patterns. But back then we were all about chocolate box proportions I guess. Put the subject in the middle, plenty of space all around.
There are lots of other things we recognise now too. Vehicles in the background is a classic rookie error. Eager to capture the moment it's easy to forget what else is going on. But if you do miss the spoiler, it can be the difference between a stunning image or a simple holiday memory. Although a holiday memory is pretty special too.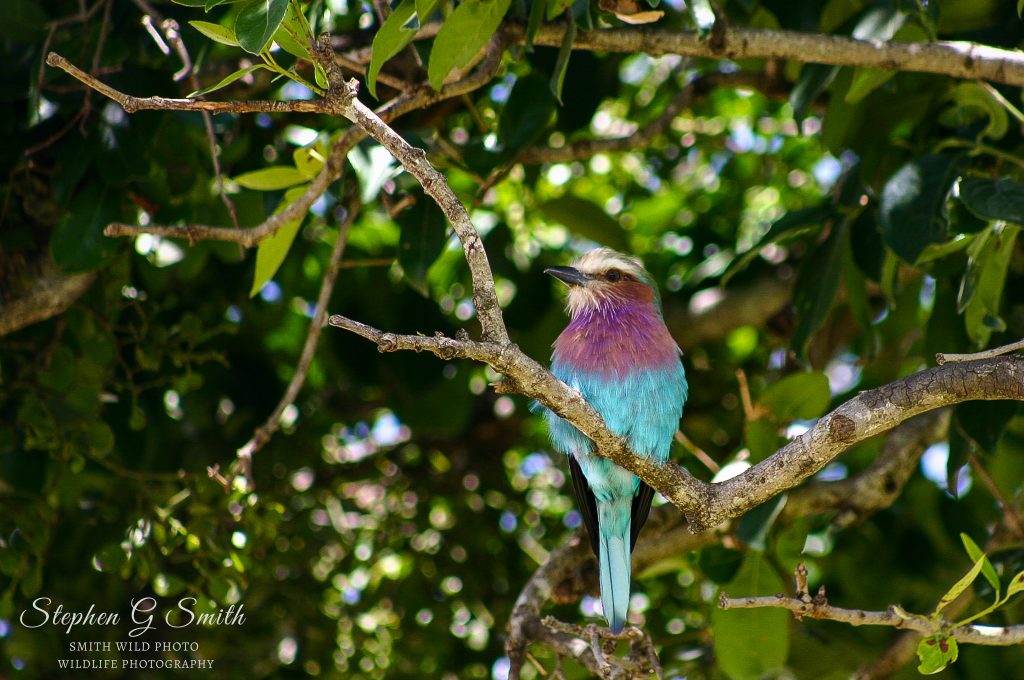 As a first safari experience goes we came home with plenty to think about. For sure we appreciate our birds a lot more.
But interestingly we didn't come home with the thousands of images you might expect without the restrictions of film. And maybe that's the reason? As past film users, we would always have been cautious. Wait for the right moment. Maybe old habits died hard.
Now digital has definitely made us less restrained. With every next camera generation, or development, comes the ability to shoot more images per second. Perfect for those action moments. These days if we come home with less than several thousand shots we would have either had a bad trip or something broke down.
So looking back at these images – now 16 years old – and what is really apparent is we were still very much in 'film' mode. Hanging our hats on one shot – only to find it is like any other snapshot when you look again in the cold light of day. Still – there were the odd ones worth hanging on to. Not many. But we hope we now have developed our skills, somewhat. Certainly, we are much less likely to hit the delete button these days.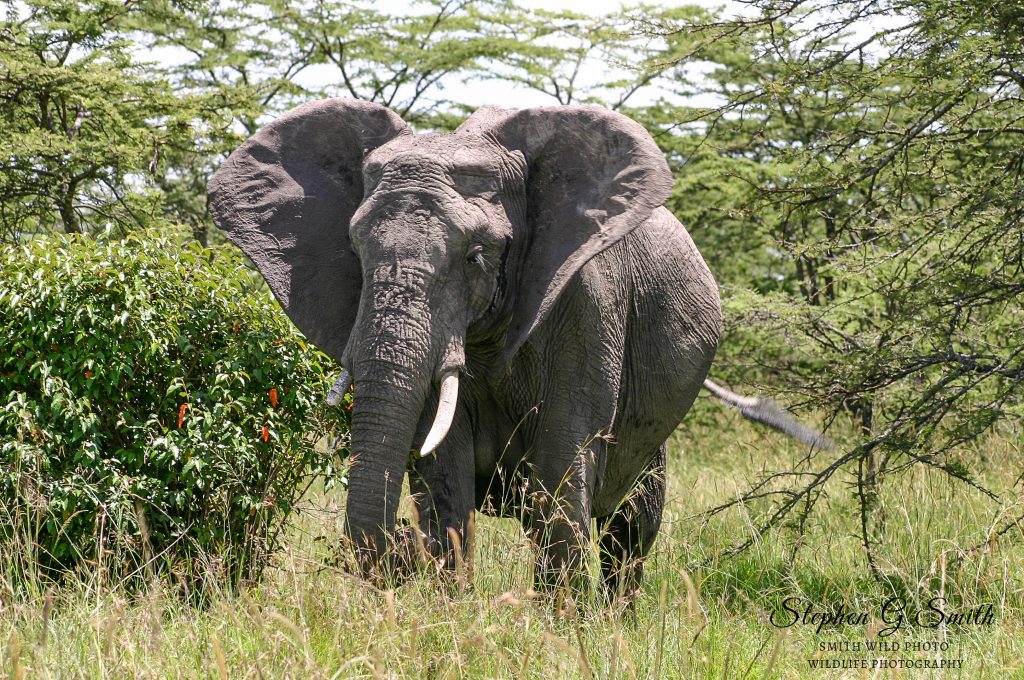 Reflecting on our first safari experience
We returned to our Watamu hotel to spend the last lazy days on the beach. Watching the fishermen wade through the water to sell their catch to the locals. Listening to the distant sounds of singing, drifting across the water from the daily boat trips out to the coral reef.
'Jambo, Jambo Bwana…'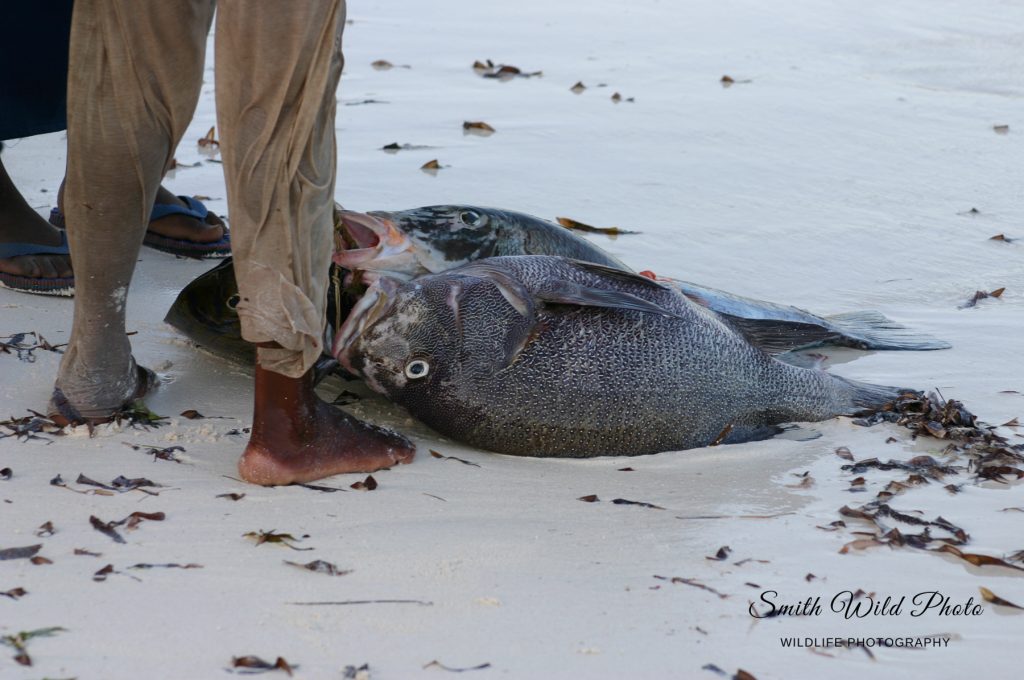 All the while we were thinking about our first safari experience.
We laughed at how unlucky we were to experience two different vehicle breakdowns on our first safari experience. Poor Kowasaki started to overheat – not him, his vehicle. On Day 2 it was declared 'broken' and we got a brand new guide, and a slightly less beat-up Toyota. They really do take a lot of hammer.
In Tsavo we flew in, but we would cross the park to meet the Nairobi road and be driven back to Mombasa. That is until it too broke down. Thank heavens for two way radios. Vehicle number two eventually pulled in, scooped us all up and took us the rest of the way. Much to the consternation of those already on board. Let's just say it was snug!
We reflected on the highs and spent many an hour just looking at the back of the camera, in the sunshine, wishing we could be back there.
And laughed a lot at the lows – including the moment Marie realised she was sharing her shower with a scorpion and screamed so loud the camp mates came running. When asked if it might have been dangerous, our camp host smiled and simply said 'no death just much pain'.
And we found ourselves repeating 'so where next?' Our hearts were now connected to this continent and there was, and is, still so much more of it to experience.
But our first job? Find Marie her own SLR camera. Because what she didn't tell you was THAT morning. The morning she had the wrong lens for the bull elephant? Well, it seems it was her lucky day after all…
The girl did okay didn't she?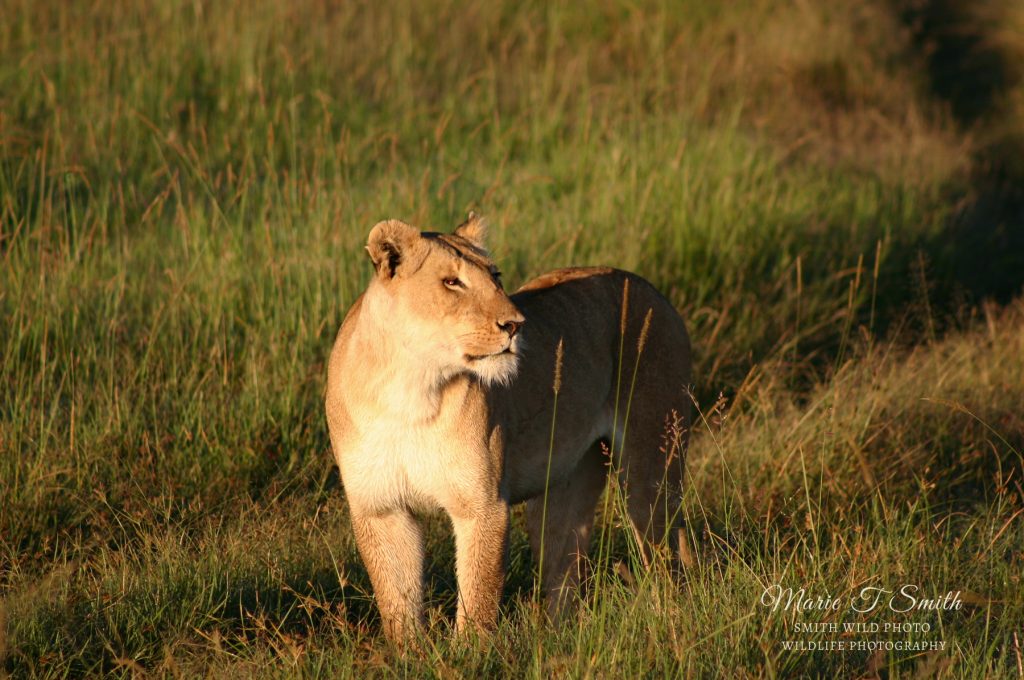 And in case you were wondering about our generous visa fee loan? You'll be glad to know that we did repay the man at the airport who had covered our visa fee. It wasn't without its stress as the hotel had no dollars or sterling either. But thanks to a lovely couple we were able to do a currency swap and so rest easy we wouldn't be arrested before boarding the plane home.
Now, no matter where we are going, we always carry our visa fee in a variety of currency – and cover all bases.
It's probably also worth mentioning the Kenyan shilling was poor value at that time, and so they really wanted other currencies in preference. Something which was not really covered in our travel pack.
If you were thinking of a safari – then despite us sharing some crazy moments, they are safe. As far as first safari experience moments go, we might not have predicted any of them. But equally, we wouldn't change them. They taught us a lot. Not least, choose your tour company well and we think you will love it.
Oh and seriously? You won't need a suitcase full of khaki. That's just us. We like playing the part.
Join us next time as we head to South Africa – warning, bring your jammies as we might be sleeping under the stars.
Written by Marie T Smith
Stephen & Marie Smith – Smith Wild Photo – travelled to Kenya for their first safari experience in February 2005 and have never looked back. To read more about our adventures check out our Sunday Safari Series